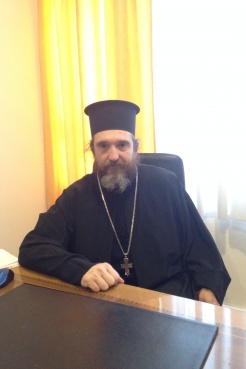 Rev. Gregory-Telemachos Stamkopoulos
Rev. Gregory-Telemachos Stamkopoulos is a clergyman of Holy Metropolis of Thessaloniki, Greece.
He has a bachelor's degree in physics and theology from Aristotle University of Thessaloniki. He received a master's degree in radioelectrology from Physics Department of AUTh and a PhD in medical informatics from Medical School of AUTh.
He worked at Yale University, CT, USA as a postdoctoral research fellow focused on telemedicine.
Rev. Gregory-Telemachos Stamkopoulos is an Associate Professor of applied information technology at the University Ecclesiastical Academy of Thessaloniki. He is the President of Academic Council at the Academy since 2013.
Rev. Gregory is the head of the Association of Orthodox Christian Scholars Greek branch since September 2015.